Back from Prague, hi!
shopping post will be posted asap.
Few days before I left my mum decided that I need some trousers.
(I just find out I have four pairs. Black (C&A, which I have since elementary school, so almost seven years) checked red punk-ish ones (C&A, 5 years) blue (Promod, bought at the begining of the fall) and jeans in classic loose cut. (Takko, two years?).
So I don't know what's her point, I think I have quite a few of them for a person who wears only skirts lately.
But since the hunt begin, I had about fifty different kinds of trousers on - NONE OF THEM FIT. Some are too tight around my calfs, some I can't fit over my butt. And hips. And thights.
Size 38 would fit, if I didn't have ,,dat ass".
Size 40 would fit if it wasn't so tight around the calfs.
size 42 would fit if I had
more
fat around my waist, which I don't want, thank you.
Uargh.
I think I'll stick with leggins.
What about you and trousers?
(See a few shamelessly stolen pictures of my dream pants.)
(Note the model protortions.)
(...And imagine typical slovanian body in them. MW-haha.)
(In order from most minimalistic to the coolest and most unwearable, hehe.)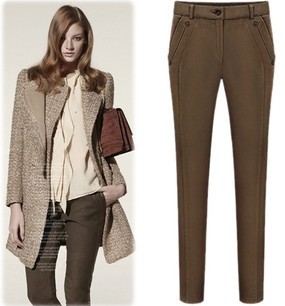 (All of them aside of the grey on the right with lowered crotch)
Not so difficult you say? Borrow my body and we'll see.)